FLOW DIAGRAM DEPICTING ADMINISTRATIVE MANAGEMENT OF THE UCSF TMEN BRAIN CANCER CENTER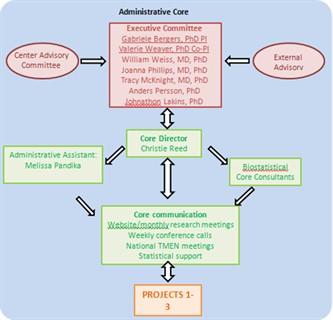 Introduction
The Administrative Core is devodeted to progressing the TMEN Brain Tumor Grant's resources, networking, interfacing, and structure for the grant. Developing and keep and updating the website is also one of the responsibilities of the director along with planning and implimenting the TMEN Annual Retreat.
The Administrative Core Director, Christie Reed and Administrative Core Assistant, Melissa Pandika, will be working closely with the Co-PIs and Center Directors, Drs. Bergers and Weaver. Ms. Reed will be responsible for overseeing the support infrastructure of the Program, ensuring that it is adequate, efficient, and effective in supporting the goals and activities of the Program. She will meet monthly with members of the Management Committee to review operational and administrative issues. Furthermore, she will participate in weekly teleconference conference meetings, monthly research meetings, and attend the yearly national TMEN meeting. She will also coordinate annual retreats for the UCSF Brain Cancer Center and assist in the establishment and maintenance of the Center's website. In addition, Christie Reed will assist Drs. Bergers and Weaver in the preparation and submission of the requisite annual reports and IRB and IACUC applications. In her capacity as Administrator Core Manager/Director, she will also field inquiries about statistical support for the project research. Finally, she will act as a liaison to Center members in need of analytical support and work with Melissa Pandika whom has a background in Bioengineering and Journalism.
The progress of scientific programs and technology development will be monitored through weekly teleconference research meetings, monthly research group meetings, monthly MC meetings, and annual CAC meetings. The goals of the TMEN will also be achieved through participation of the Center's PIs and researchers in annual Brain Tumor SPORE Retreats, monthly PSOC meetings and annual retreat, UCSF Stem Cell retreat, annual UCSF Helen Diller Family Comprehensive Cancer Research Center Retreat, annual Department of Surgery retreat, and annual Department of Neurosciences retreat. Center members will also participate in graduate group-based annual retreats organized for the Biomedical Sciences Graduate Program and the UCSF and UC Berkeley Joint Bioengineering Graduate Program. Once per year, the UCSF TMEN-BCC will hold scientific retreats, and members will participate in national TMEN meetings, conferences, and retreats.
Communications: Communication systems and processes have been established in the early months of the development of the Program to ensure timely exchange of information and release of data and materials. The communications plan we are currently executing includes the following:
A public and internal website
Weekly teleconference research meetings
Monthly research meetings
Annual report
Annual retreat